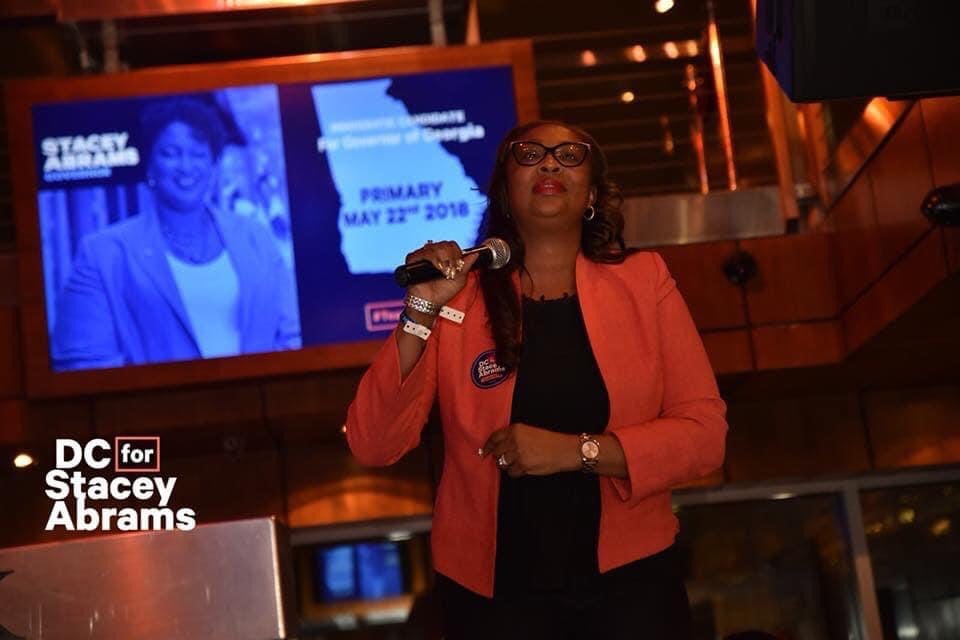 Desiree Peterkin Bell
Public Relations Expert
Desiree took the brunt of the repercussions. She was escorted out of the school. They were, however, able to find her a new school through the A Better Chance Program. Desiree relocated to Wallingford, Pennsylvania, where she spent four years in the ABC's Girls House. That period of her life was formative, awakening her to a slew of societal concerns, including, but not limited to, privilege and racism.

Desiree studied Political Science and Education at Swarthmore College, where she excelled in athletics. She got the Dean's Award for extraordinary community involvement and academic accomplishment upon graduation. Desiree transitioned from public administration to public affairs, starting her own full-service firm. DPBell & Associates, with offices located throughout the world, serves both foreign and domestic clients. Their strategies are battle-tested and purpose-driven with Desiree at the lead.

Read More: https://docsend.com/view/tu7y38rtata6axw6

Portfolio: https://desireepeterkinbell-nj.com/
Desiree Peterkin Bell Readers are Introduced to Herself and Her Business
Published On: 03-10-2023


I am a mother, wife, daughter, and sister passionate about making a difference in the world. I am a two-time New York Times bestselling author, award-winning public affairs and brand strategist, speaker, and advocate who seeks to lead movements rather than moments. I have served as a trusted advisor and brand builder for some of the nation's and world's most influential thought and cultural leaders of our time for over 25 years. Despite the change in my position, I continue to advocate for causes that amplify the voices of people of color and other marginalized communities. I often say that I am the poster child for Battle-Tested, but GOD-Bested; with a career that has cemented my skillset and knowledge, I have earned my place as a key figure in political, public affairs, marketing, and strategy circles around the globe.
I am the company's founder and chief executive officer. This boutique global public affairs firm with team members in Washington, D.C., New York City, New Jersey, Mauritius, Tel Aviv, and Los Angeles serves national and international clients. We specialize in public relations, brand management, innovative technology and positioning, strategic counseling, crisis communications, media training, digital organizing, high-level event production, political consulting, content creation, and strategic alliances.
DPBell & Associates is a prestigious public affairs firm representing movements, not moments; brands that matter and individuals who wish to make a difference. As a leading firm addressing racial inequality and equity issues, DPBell & Associates is frequently asked to advise Fortune 100, 500, and C-suite organizations, executives, and CEOs.
In Virginia, my team at DPBell & Associates and I led the successful strategy and passage of the nation's first Breonna's Law. During the presidential and midterm elections, we traveled the country to provide media training, digital organizing strategies, and essential press assistance. We have made significant entertainment, content, and technology advancements, particularly in Africa. Desiree led the public relations, marketing, and brand strategy for The Mic Africa, the first music competition and docuseries born on the continent that connects African music, arts, and culture to a new generation of fans worldwide. Her consistent and strategic approach has resulted in one billion media impressions and four prominent billboards of African artists in Times Square, including the first-ever African artist/rapper from Tanzania.
How are your current efforts contributing to the advancement of women?
I am fully committed to curating spaces and redefining new paradigms that enable people of color to influence media, politics, social movements, and the entertainment industry. One of her projects is her signature Chat & Chew events, at which she co-facilitates candid conversations on various issues affecting women, including race, culture, and politics, to foster constructive dialogue and promote healing. These global conversations are likely to continue and have a worldwide impact on the lives of women and girls. I've had the privilege of bringing these conversations to 13 U.S. cities, including Los Angeles, where we partnered with former First Lady Michelle Obama and the United States of Women for the largest community event; we've also had these conversations in Panama, Mexico, Tel Aviv, the United Kingdom, Bermuda, Nigeria, Ghana, and Colombia.
- What recommendations would you offer for establishing a recognizable brand in a competitive market?
Feel free to stand out from the crowd. We are all divinely and uniquely created. I try to avoid following trends and instead make and concentrate on things nobody is discussing. Sometimes, as Black women, we doubt our abilities, whereas many of our counterparts are not subjected to nearly as much scrutiny before "trying something new." Allow yourself the time and flexibility to try something new. Be courageous and constant.
How do you maintain motivation throughout uncertain seasons?
The truth is, I pray, and I see a therapist (or two). During times of uncertainty, I frequently require guidance from something greater than myself. I often meditate, concentrating on achieving my objectives. Black women frequently succumb to these dangerous self-defining stereotypes, the "Strong Black Woman" mentality, when we should permit ourselves to feel vulnerable, pause, slow down, and breathe. I am learning that my strength does not come from pushing through uncertain seasons or difficult times but rather from resting and resting well during these times to regenerate, recharge, and find peace.
Peace.
- Please describe your 2023 plans and provide your online contact information.
By the grace of GOD, I intend to continue to make a distinct and lasting impression. First, I will reveal new cities and nations hosting "Chat and Chews." I wish to continue providing a forum for difficult conversations that foster coalition and comprehension. We Got Us! As executives, my team and I produced the second annual (Take Back The Mic) TBTM Interactive Festival. The theme of last year's Festival was "Connecting the Continents, Connecting the Culture." Dr. Deepak Chopra, Aja Naomi King, Mustafa Shakir, Baratunde Thurston, and other thought leaders from Business, Technology, Impact, Media & Entertainment, and Innovation were among the featured speakers.
The virtual Festival returns this year with the theme Remixing the Renaissance: Culture and Technology in the New Global South and a new roster of influential leaders in their respective fields. The Festival will occur virtually this year via the team: app and TBTM web platform. In 2023, my team and I will executive produce more global, consequential events. Lastly, I intend to get some much-needed rest. I know I can only give the world, my community, my team, and my organization my best when I am at my best.
I've also been invited to speak at London's House of Lords on "Purpose, Not Position." https://masterchangeyourway.com/
Please get in touch with me here:
Twitter: @DPBell
LinkedIn: https://www.linkedin.com/in/desireepeterkinbell/
Website: https://dpbellandassociates.com
Desiree's most noteworthy achievements: Desiree has been recognized nationally and internationally as one of the best and brightest in Public Affairs and the P.R. industry by P.R. Week's "40 under 40," Black Enterprise, The Obama Administration, For(bes) The Culture, Essence Magazine, Black Enterprise Magazine, and Pope Francis. Philadelphia Association of Journalists, the oldest chapter of the National Association of Journalists, recently presented her with the TrailBlazer Award for her game-changing international reach in consulting, public relations, politics, and the media.